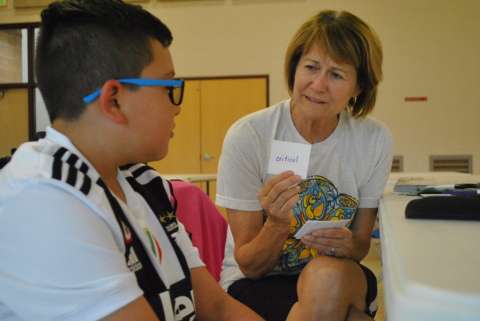 By Reagan Foster
June 5th, 2019
The days are getting longer and the sun shines most of the time. Trees are in leaf, the grass is green and if it rains on the occasional afternoon, that's OK …  it's just a way to beat the heat that is inevitably going to get stifling. 
Yup, summer is here (even if not officially until June 21), and for local children that means the end of class and the start of the fun. But for local educators and literacy advocates, it means stepping up efforts to make reading part of the summer routine.
"If you read during the summer, you gain about a month's worth of skills. If you don't, you lose two to three months," said Nancy Maday, the head of the Children's Services Division for the Pikes Peak Library District. "It gets worse as you get older." 
She's not exaggerating. 
In December 2014, the nonprofit, multistate consortium Collaborative Summer Library Program released a study of the efficacy of out-of-school summer reading programs. What they found is clear and consistent evidence that these programs both stem the summer scholastic slip and improve reading performance once class is back in session. 
This is especially true in economically fluid neighborhoods. 
"All children, regardless of their (socioeconomic status), race or ethnicity, or reading level, experience similar patterns of improvement during the school year," the report found. "However, low SES children fall behind during the summer months. This phenomenon is known as 'summer slide,' 'summer learning loss,' or 'summer setback.'"
In short, reading of any type keeps a student's brain engaged and can help minimize the amount of material lost during the academic downtime, area literacy experts agreed. 
"By fifth grade, students who don't read over the summer and who don't have English spoken in the home can be two grade levels behind," said Rebecca Flemming. "It's very powerful for them to hear the written word" read aloud.
She should know. Flemming taught for 20 years, retiring in 2015 as a high school English-language learners specialist. Today, she is a volunteer tutor for the Children's Literacy Center. 
The nonprofit center partners with local school districts to identify students in need of a little extra reading help, and pairs them with volunteers for tailored, one-on-one tutoring. It currently has 10 sites across the city and during the summer will serve around 200 students, said Program Director Pamela Polke. Kids are given pre- and post-tutoring assessments, she said, and 95 percent show a measurable improvement in their reading performance.  
The center conducts twice-weekly sessions at the Southeast & Armed Services YMCA, but an additional Southeast program is slated to start at Silver Key Senior Services, 1605 S. Murray Blvd., in June. For that, the Children's Literacy Center is working with leading Harrison School District 2 high school students to grow their tutor ranks and further encourage student engagement. 
"Research has shown that children develop a love of reading if they're allowed to read what they want to. There's a window of opportunity for every type of learning. Once you pass that, you can still learn but it's not as easy. We try to pair that with what they need, so children can enter the world with success as adults." — Nancy Maday, Pikes Peak Library District
For her part, Flemming worked twice weekly with 9-year-old Israel Ruiz-Lopez, an outgoing and demonstrative fourth-grader at Soaring Eagles Elementary School. The two met twice weekly for 12 weeks.
One of their hour-long April sessions was split between defining grade-appropriate vocabulary words, and reading a story called "Rocks Ann." As the pair worked, paragraph-by-paragraph, through the piece about a little girl who talked with stones, they discussed the content, the message and even some of those pesky vocabulary words they had previously drilled. 
Israel correctly identified the short story as a work of fictional prose, but Flemming wasn't surprised. 
"You can make the program fit the needs of a specific child," she said of the Children's Literacy Center curriculum. "This gives them extra support when school's out."
Extra support is also at the heart of the library district's extensive offerings. Maday said the district offers some 12,000 free programs for residents of all ages, and about 1,000 summer happenings geared at children from the youngest toddlers to 18-year-olds, she said. 
But the institution's interest in nurturing kids' growth isn't just limited to their minds. The Sand Creek Library, 1821 S. Academy Blvd., and Ruth Holley Library,  685 N. Murray Blvd., will both offer free lunches to all patrons ages 18 and under this summer. Food will be served Monday through Friday through Aug. 2, with the exception of July 4. Lunch time is 10:55 to 11:25 a.m. at Sand Creek, and noon to 12:30 p.m. at Ruth Holley.
This year's literacy program, "Summer Adventure," has a STEAM (science, technology, engineering, art and mathematics) theme, and engages children not just through books but with music, movement, arts and activities. Youths who complete the program's different components can win prizes like tote bags, T-shirts and, of course, their choice of a book. 
Oh, and when it comes to summer reading, choice matters. Put away the school-assigned reading list … at least for now, Maday said. 
"Research has shown that children develop a love of reading if they're allowed to read what they want to," she said. "There's a window of opportunity for every type of learning. Once you pass that, you can still learn but it's not as easy. 
"We try to pair that with what they need, so children can enter the world with success as adults."